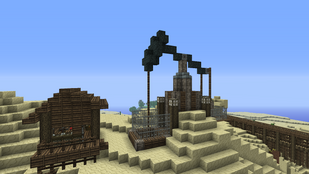 City: At a Glance
Edit
Theme: Old West
Common Materials: Sandstone, Brick, All Wood Types
Common Colors: Brown, Light Yellow, Grey
Building Spots:
Edit
How to get there:
Edit
Boats: N/A
Trains: Yes
Airship: N/A
Builders:
Edit
Technoanimated
'Shankwood' is an amalgamation of Old Western architecture inspired by games such as 'Red Dead Redemption' and films like 'The Good, The Bad And The Ugly'. The town features a large mountain Mineshaft and two streets that posture a Saloon, Bank, Bar, Train Station and Town Hall. Other features include an oil rig, wagons, shops and a huge mechanical spider from 'The Wild Wild West'.
Ad blocker interference detected!
Wikia is a free-to-use site that makes money from advertising. We have a modified experience for viewers using ad blockers

Wikia is not accessible if you've made further modifications. Remove the custom ad blocker rule(s) and the page will load as expected.