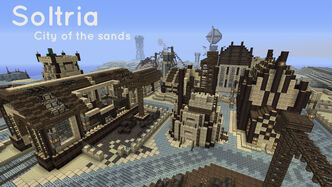 City: At a Glance
Edit
Description:
Soltria Port is a ship yard/port. Accepting & delivering of supplies around the world. The port also build some of the finest ships on the high seas; some being supply ships, other ships for the war machine.
Buildings in the Port
Edit
Dry Dock
Rail Station
Tavern
Blacksmiths
Saw Mill
Lighthouse x2
Harbour Masters
Bridges
Harbour Walls
6 Ships (1 sunken)
Airship/Zeppelin Dock - connected to the main spawn point.
Common Materials:
Sand
Sandstone
Wood (Dark)
Glowstone
Sandstone Slabs
Pumpkins (Supply Boxes with server mod)
Building Spots:
Edit
How to get there:
Edit
Boats:
Trains:
Airship:
Builders:
Edit
Ad blocker interference detected!
Wikia is a free-to-use site that makes money from advertising. We have a modified experience for viewers using ad blockers

Wikia is not accessible if you've made further modifications. Remove the custom ad blocker rule(s) and the page will load as expected.